When you go shopping for an 800 watt mixer grinder, you will find abundant options in the market. Almost every brand has this on offer and across different styles, and price ranges too. If you are part of a joint family with diverse taste buds and preferences, this is the kind of mean machine you would need.
From taking care of baby food to feeding the toddler to making porridge and soup for your grandparents, the grinder and juicer will help you. There are different features too, like juicer- mixer and grinder all packed in one. Some brands call it the food processors, and you will realize their purpose is high in a big family.
List of Best 800 Watt Mixer Grinder
Bajaj Ivora Crimson Red Mixer Grinder is easily one of the premium products from this brand. The mixture grinder has an anti-germ coating that does not let unwanted germs enter your food resulting in a healthy and hygienic kitchen.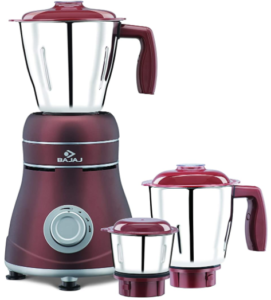 The efficient 800 watt motor integrated into the mixers allows you to do the grinding work more swiftly and quickly. Bajaj has used "Tetra flow technology" in this product. It ensures even and speedy grinding and mixing of your materials.
Moreover, the Bajaj 800 watt mixer grinder has an anti-dust built. It does not let dust sit on the jars, body of the mixer. Therefore, you will have a hassle-free cleaning time with this item. Overall, the mixer grinder is packed with some excellent features. 
Key Features
Nutri-pro feature keeps food nutrients intact
The anti-bacterial coating protects food from germs
Anti-dust body coating does not let dirt sit on the body
V-shaped jars good for some veggies or fruits
Pros
Hassle-free cleaning due to anti-dust technology
Handle grips easy to handle
Attractive design and colour make it a great choice
Cons
No proper juicer and filter
Specifications
| | |
| --- | --- |
| Item dimensions: LxWxH | 43 x 22 x 26.5 Centimetres |
| Weight | 4 |
| Material | ABS plastic, stainless-steel jars |
| Wattage | 800 watts |
| Colour | Crimson Red |
| Type of Mixer Jar | 2 grinding jars |
| Speed Control | 3 levels speed control |
| Included Components | One motor unit, Spatula, Instruction manual, 3 jars with blades and lid, Warranty card |
| Warranty | Motor: 5 years; Product: 2 years |
If you are looking for a colourful 800 watt mixer grinder, consider Usha Thunderbolt Mixer Grinder as one of the best options. It looks stunning with a blend of powerful features. It helps in preparing your food well. You can try different recipes and grind several ingredients.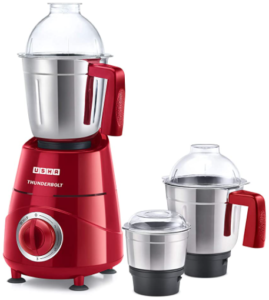 The product offers three jars and has a hundred percentile copper motor that lasts. Due to this, you will not face any problem in cooking the food. Moreover, it comes with high torque and has a warranty of five years. The three jars are of different quantities: wet jar – 1.5 L, multipurpose jar – 0.5 L, and grinding jar with the quantity of 0.5 L.
In addition, the central feature of this 800 watt mixer grinder is that it comes with SS food-safe blades. It offers you stable grinding. It not only includes the three-speed setting but also the whip option. You will get a warranty of two years on the product and five years on the motor. Moreover, you will get a chutney jar, dry jar, wet jar with transparent lids.
Key Features
Fully copper motor
Has a sleek design
Heavy Gauge SS jars
Pros
Comes with the flow breakers
Easy to use and clean
Blend with the Lock feature
Cons
Noise level is quite a disturbance
Specifications
| | |
| --- | --- |
| Item dimensions: LXWXH | 20.2 x 34.2 x 39.8 Centimetres |
| Weight | 4.68 Kilograms |
| Material | ABS |
| Wattage | 800 Watts |
| Colour | Red |
| Type of Mixer Jar | Stainless steel |
| Included Components | 1 main unit, 3 jars, spatula, and instruction manual. |
| Warranty | 2 Years |
The unique design of the Usha Trienergy Plus 800 Watt Mixer Grinder attracts the customer towards it. With the help of this mixer grinder, you will get a chunk-free experience of cooking. Moreover, the product is based on the Quardi flow technology, which makes it different from others.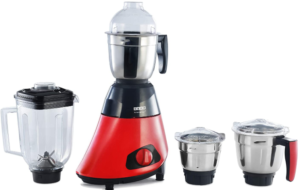 You will experience a superior performance because of higher reliability, colour operation, and so on. Add the red colour to your kitchen by considering the best option. The 800 watt mixer grinder grinder has a feature of high torque. It is not only ideal for grinding but also for making smoothies. Three different jars have different quantities. 
If you want to make chutney, you can consider the chutney jar. Moreover, you can prepare the batter of Idli, dosa, and so on.
Key Features
Has 6 fin hardened SS whirlwind blade
Comes with hands-free operation
Jars are safe for the food
First square shape quadric flow
Pros
Comes with a lid-lock mechanism
Transparent blending jars
Fine grinding with superior performance
Cons
Specifications
| | |
| --- | --- |
| Item dimensions: LXWXH | 25.5 x 23 x 27 Centimetres |
| Weight | 5.63 Kilograms |
| Material | ABS |
| Wattage | 800 Watts |
| Colour | Red |
| Type of Mixer Jar | Transparent |
| Included Components | Mixer Grinder main unit, 4 blending Jars and lid, spatula, and instruction manual |
| Warranty | 5 years (motor), 2 years (product) |
Maharaja Whiteline MX-222 800 watt Mixer Grinder can perform better to become your favourite companion, from preparing for soft batters to grinding for the toughest ingredients. It has some subtle unique features that distinguish it from other models of the range. This Maharaja Mixer Grinder price range starts from INR 3,700, making it one of the most affordable models for any household. The highly efficient motor with 20000 RPM makes it an ideal device for tough grinding sessions. You will also be getting three mixing jars of different volumes and one juicer along with the machine that makes it easier for you to carry out your operational works without worrying about storage spaces.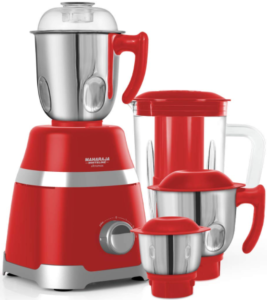 Why should you purchase this model of Maharaja Whiteline? It comes with an enhanced cooling mechanism that provides 20% higher cooling. So now, you can conveniently operate your mixer for a longer duration of time. It comes with unique jar flow breakers that ultimately ensure the ingredients are ideally grounded.
Key Features
Fruit Filter: helps in obtaining smoother juices
Offers 100% Food Grade Assurance
The powerful motor of 800W easily grinds the toughest ingredients.
Easy-to-operate knobs and overload protectors make it all over unique.
Pros
It is equipped with vacuum feet to provide a better grip.
The food-graded stainless steel jars ensure complete food protection.
20% higher cooling mechanism.
Cons
The plastic body of the mixer is of inferior quality.
Specifications
| | |
| --- | --- |
| Item dimensions: LXWXH | 22.8 x 21 x 24.3 Centimetres |
| Weight | 4.6 Kilograms |
| Material | Plastic |
| Wattage | 800 Watts |
| Colour | Red |
| Type of Mixer Jar | Opaque |
| Included Components | 0.4L Chutney grinder jar, 1.5L blending jar, 1L dry grinding jar, and 1.5L liquidizing jar. |
| Warranty | 2 years of warranty |
Why Choose an 800 watt mixer grinder?
There are many reasons, and the first reason is its big-power motor. Unlike the 500-watt mixer-grinder, which can run efficiently for small quantities, this one is great for a big load. There would be a need for you to make several things at a time, and the rush hour needs of a big family can be crazy. So, the best way to tackle the same is with an 800 watt mixer grinder.
With a long-term running time, these mixers do not heat up or cause noise. Their efficiency in providing for a host of items makes them a top choice for the commercial kitchen space. Small cafes, takeaway joints can opt for these to save space while offering super quality food products.
How to Choose an 800 watt mixer grinder?
Speed: The RPM can be between 18000 and 23000, and this is reasonable too. The presence of a 3-speed adjustable knob helps in managing the speed for each action. Regular dry grinding can be possible with a high-speed run. Just make sure to go for low to medium when you opt for wet grinding or small quantities.
Jar Types and Materials: If a juicer and food processor are in it, look for a 304-grade stainless steel body. There would be a dome lid with a feeding tube or an outlet to easily drop in the ingredients while the grinding is going on. This ensures better and easier functionality. Also, look for jars with thick polycarbonate transparent lids with lid clasps. This will keep the contents in a jar and not cause any spill. These jars should be unbreakable so that you can roughly use them and still not worry.
Blades: There can be two, three, four, or six-finned blades made out of stainless steel. Every blade has its functionality and hence is worthy. Some may be removable, and others may not be so. Either way, they would have to be of 304-food grade stainless steel to not rust with time. This also decides the speed of the grinding process.
Safety Features: Expect an anti-skid feature to keep the 800 watt mixer grinder in place and not move when grinding out of vibration. Look for rubber lining inside the lids to ensure nothing spills, especially when you opt for the juice or smoothie mode. Also, look for overload protection to ensure complete safety for you as you grind.
Benefits of Using 800 Watt Mixer Grinder
Easy to Plan a Big Meal: It is ideal for cooking a lavish lunch or dinner, and you need to make pastes of multiple items.
Faster and Better: When the motor is doing its job well, you need not worry about the speed of cooking.
No Worries about Heating: The motor is the best reason you opt for this mixer grinder and so say goodbye to heating up after grinding.