As someone in a big Indian joint family and in charge of the kitchen department, you may have immense responsibility on your shoulders. Some kids are constantly hungry for goodies, a husband or a wife who is no better than the kids and other family members. Satisfying everyone's taste and culinary requirements is a tough job, and the only way out will be by using the 5 jar mixer grinder.
What is the 5 Jar in Mixer Grinders?
Now the big question is, what are the 5 jars in these mixer grinders? These are the multi-tasking food processors/ juicer/ blender/ and mixer grinder – all in one. So, you can pick the Panasonic mixer grinder 5-jar ones for yourself to see what it looks like and whether you should go for it at all or not. Now, before you make a beeline to the store to pick one, read on about what to expect from these 5 jar mixer grinder.
How to Select the Best 5 Jar Mixer Grinder
Jar Capacity: A juice extractor jar, a blender, a dry jar, a chutney jar, and a wet jar. The juicer and wet jars would be more or less above 1 liter, and the others would be lesser than that. Even the regular dry jar would be 1 liter or more.
Lid and Handle Style: The lid would be transparent, and the blender and juicer might even come with a spout to pour easily. There might be a mouth on the middle of the blender's lid or juicer from where you can add the cut fruits or vegetables. These would give you easy access to the blender. The lids would also have a gasket to keep the contents safe in them. The handles would be made of shockproof ABS materials and not heated up. They would also help you to pour out the contents after grinding without spilling.
Platform Support: Look at four twists and lock platforms on these mixer grinders. These would keep the jars in place on the mixer grinder when in use. Even the grinder should come with anti-skid feet to keep the machines running smoothly and not spilling.
Overload and Overheat Protection: The next aspect to note is if the 5 jar mixer grinder has overload protection at all or not. This would be a necessity to keep the users safe when you make the pastes or batters.
Material: Look for nothing less than a food-grade stainless steel body or even transparent Polycarbonate material. These also should be easy to maintain and not retain the smell of coffee beans or strong garlic and another aroma. The coconut scrapper and egg beating or meat mincing features mean that you have to look for the superior materials in the mixer grinder.

List of Top 5 Jar Mixer Grinder
Preethi Zodiac is one of the ideal products, which can grind turmeric within two minutes. It not only has a strong motor but also has fast motor cooling functionality. This Preethi zodiac mixer grinder can fulfil all your requirements regarding mixing, grinding, and juicing.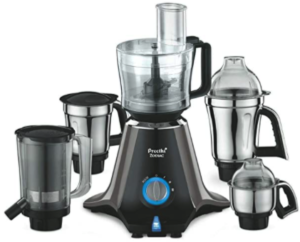 It is the first mixer grinder that has the feature of a three-in-one insta fresh juicer jar. It has a centrifugal juicer useful in juicing the fruit, super extractor for extracting the tamarind essence. The third one is a blender that is fruitful in making the shakes. You can perform several things by using this incredible mixer grinder.
These things include atta kneading, chopping, citrus, grating, and so on. With the help of the speed controlling function, you can control its speed as per the requirements. You should buy this commendable mixer grinder for completing all your needs right from atta kneading to grating.
Key Features
Has the vega W5 motors, which makes grinding fast
Comes with the super-sharp multi-functional blades
Has the 3-in-1 insta fresh juicers for juicing
Comes with the capabilities of food processing
Pros
Make your work easy
Speed up your cooking
Elegant design with the best performance
Cons
The user may experience a burning smell.
Specifications
| | |
| --- | --- |
| Item dimensions: LXWXH | 32 x 63 x 32 Centimetres |
| Weight | 8.49 Kilograms |
| Material | ABS Plastic |
| Wattage | 750 Watts |
| Colour | Black |
| Type of Mixer Jar | Stainless Steel |
| Included Components | Mixer Grinder, stainless jars |
| Warranty | 2 Years |
Who will Benefit from 5 Jar Mixer Grinder ?
Anyone who loves cooking and has a big family to feed would benefit. Just make sure to check out a few top brands before making the pick.
Buy the Best 5-Jar Mixer Grinder Now
Have you finally decided on getting that mixer grinder with 5 jars? If not, go for the Panasonic mixer grinder 5-jar option, as it packs in all the benefits in one. Other brands like Philips, Bajaj, Wonderchef, Butterfly, and more can also benefit you. Just check these out before buying any of these valuable machines.